Top Quality Firewood Near Me:
Professionally Delivered
Kiln-Dried and MDA-Certified for Dependable Fires
Looking for a simple and convenient firewood delivery experience? The pros at ProCut Firewood have you covered! We kiln-dry our firewood at 265°F for 36 hours to ensure it's always easy to ignite and produces the longest, hottest burns with minimal smoke. Order yours today and enjoy prompt delivery throughout the Greater Minneapolis-Saint Paul region.
Why Choose ProCut Firewood?
Since 1989, residents of Minneapolis, Saint Paul, Rochester and the surrounding region have trusted us for their firewood needs. Our customers keep returning because we consistently produce premium kiln-dried firewood and deliver it with the utmost professionalism. When you trust the pros, fires are a lot less stressful and a lot more fun!
What is Kiln-Dried Firewood, and Why is It Best?
Our kiln-dried firewood is neatly split hardwood that has been heat-treated and dried in an oven at 265°F for 36 hours. The controlled process always reduces the wood's moisture content to less than 20% and purifies it from all insects, mold and fungus. The Minnesota Department of Agriculture has certified our process for reliable results.
Firewood with less than 20% moisture creates the best fires with all the following benefits:
Easy Ignition – often with only a single match
Hotter Flames – less moisture for fuller combustion
Longer Burns – won't fizzle quickly like damp wood
Less Smoke – no more teary-eyed campfires
No Pollution – clean wood prevents dirty smoke and creosote
Greater Efficiency – create better fires using less wood
Most Minnesota firewood providers don't kiln-dry their firewood. Instead, they season it by leaving it to air dry for months. The problem with this process is it doesn't consistently reduce the wood to below 20% moisture or purify it from pests and mold. As a result, the wood does not burn efficiently and often produces dirty smoke and creosote.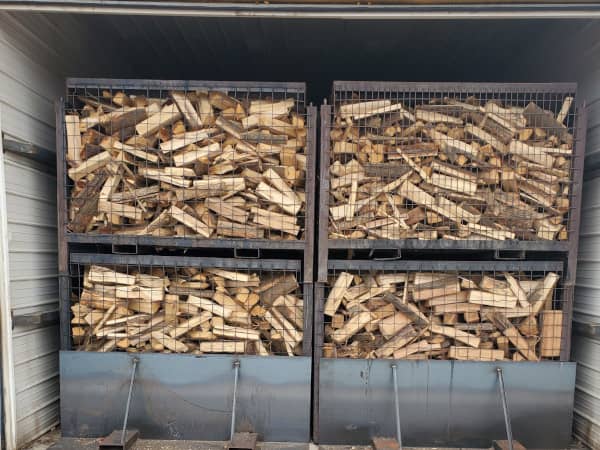 How Does ProCut Firewood Provide the Best Service?
Our family-owned company provides friendly and prompt service along with our top-quality wood. We're happy to answer all your questions when you call or stop by our business. We'll walk you through the firewood ordering process to make it easy.
Getting your wood is just as stress-free. Our delivery drivers will get your wood to you as quickly as possible, depending on your location. We can often get orders to Minneapolis or Saint Paul within 48 hours. The wood always arrives on time, clean and ready to burn right away, and we'll drop it off anywhere you request on the ground level of your property.
What Our Customers Are Saying
Try Our Clean and Convenient Mini-Stack
The Mini Stack is a 2'x4' tightly wrapped stack of premium kiln-dried firewood. We'll deliver it to your home and place it anywhere on your property. Because kiln-dried wood comes purified from all pests and mold, it's safe and convenient to store anywhere in your home.
Our Quick and Easy Ordering Process
It's simple to get all the premium wood you need the way you want it. We offer the most flexible ordering options of any firewood for sale in Minnesota. Here's an overview of your choices:
Step 1: Choose Your Hardwood Species
We only sell hardwood firewood because these species are denser and contain less sap than softwood. Hardwood burns hotter, longer and with fewer sparks and dirty smoke. Here are your hardwood choices and their defining characteristics:
Birch
– Beautiful blue flame –
– Great fire starter –
– Mild heat output –
Cherry
– Pleasing fruity aroma –
– Attractive reddish hue –
– Mild heat output –
Hickory
– Excellent heat source –
– Long-lasting flames –
– Burns very clean –
Oak
– Highest heat output –
– Longest, slowest burns –
– Subtle, smoky aroma –
Mixed Hardwood
– Combine two or more species –
– Mix and match for best results –
– Enjoy hot, aromatic flames –
Sauna
– Ideal hardwood mix for saunas –
– Quickly heats to ideal temperature –
– Nice clean burn –
Step 2: Select Your Order Size
Whether you need a bundle for a camping trip or a full cord to heat your home this winter, we've got you covered. You can select from one of our four main ordering options below or call us to discuss a custom-sized order.
Bundle
Portable bag containing 5-7 pieces
Mini Stack
2' wide x 4' high stack (~80 pieces)
Half Cord
64 cubic feet of kiln-dried firewood
Full Cord
128 cubic feet of kiln-dried firewood
Step 3: Choose Pickup or Delivery
The last step is to decide if you want to come get your wood or have us bring it to you. You're welcome to pick up a bundle if you live near our business (2660 N Broadway Ave Rochester, MN). Or we can help you load your trunk with a larger order.
Too far away for pickup? No worries! We offer efficient delivery throughout the Twin Cities region, including Minneapolis, Saint Paul, Rochester, Winona and Owatonna.
Simply call and place your order. We'll take down all your order instructions and deliver it to your home in 1-3 days, depending on how far away you are. (Please note: we do not deliver bundles, only mini stacks and larger orders.)
Did You Know We Also Sell Fire Starters?
Get your kiln-dried firewood going with premium fire starter materials. Our fire starters consist of natural wood chips, sawdust and wax for an easy, guaranteed start-up. Each fire starter is $1, or you can purchase a pack of six for $5. Request your fire starters when you order your firewood!
Get Answers to Your Firewood Near Me Questions
Have more questions about our kiln-dried firewood? Below, we've listed some helpful answers to our customers' most common questions. Don't see your question addressed below? Please call 507-280-7780 or message us on Facebook to get the information you need.
Why is your firewood so expensive?
We charge more than our competitors because we do more to produce the best possible wood. Creating neatly split, kiln-dried firewood requires expensive machinery and well-paid laborers to get the job done right. But we think these extra costs are worth it for the fun and relaxing experience the wood provides. Try a bundle yourself to experience the difference.
Isn't kiln-dried firewood too dry?
We often hear this criticism against kiln-dried firewood, and the concern is valid. After all, wood can get too dry, and when it does, it burns far too quickly. We prevent this problem by kiln-drying the wood for just long enough to get the moisture content below 20%. The wood still contains some moisture to keep the flames working but not too much to keep them from burning efficiently.
Do you tumble your firewood?
Yes! We put all our firewood through a tumbler, separating the good splits from the debris and substandard pieces. Each order contains the cleanest pieces of kiln-dried firewood with minimum scraps and debris as a result.
Does your company take steps to protect the environment?
Yes! We take great care to ensure our firewood production process is as safe for our environment as possible. One way we do this is by sustainably sourcing our wood from responsible harvesters, who plant a tree for each one they cut down.
The kiln-dried firewood we produce is also better for the environment than standard wood because it doesn't produce dirty smoke and creosote when burned. Since we purify it from all insects, the wood is safe to transport without putting local trees at risk of invasive pests.
Do you sell wholesale firewood or restaurant firewood?
Yes, we offer both wholesale firewood and restaurant firewood. Our wholesale bundled pallets are an excellent choice for state parks, convenience stores, campgrounds and more. We also supply many of the top restaurants in the Twin Cities region with gourmet-quality cooking wood.
What type of wood should I choose?
The ideal species of wood to burn will depend on your situation. For example, if you're looking for the hottest campfire possible, you'll want to stick with hickory or oak. However, cherry is a great choice if you want a sweet-smelling fire, and birch burns with a beautiful blue flame if you're looking for striking visuals.
How should I store my firewood for the best results?
You need to remember a few simple rules for storing kiln-dried wood. First, keep plenty of space around your wood stack for ample airflow. There should also be space between the stacked pieces to allow for adequate airflow. If you store your wood outside, give it an overhead covering to protect it from the rain, and always keep the wood elevated off the ground to protect it from moisture and pests.
How long will kiln-dried firewood last?
If you've been searching for high-quality "firewood near me" that will last, kiln-dried firewood is an excellent choice. Burning wood in the season or year you purchase it is always the best choice. However, if you keep the firewood dry, off the ground and away from pests, our firewood can potentially be stored for years. Of course, you'll need to regularly check the firewood for signs of decay, mold or bugs to be safe.
Is it okay to leave firewood uncovered or outside?
We strongly suggest you don't leave your firewood uncovered since this exposes it to moisture in the air. Rain, humidity and even morning dew can increase the moisture content of your kiln-dried logs – and reduce the benefits of purchasing this higher-quality firewood option. However, you can store your firewood outside if you have no other options. If you plan to do this, ensure your firewood is kept off the ground to avoid pests and covered with a tarp to reduce moisture exposure.
Experience the ProCut Firewood Difference Today!
If you need premium-quality wood delivered as quickly as possible, then don't delay! Our professional team is ready to bring kiln-dried firewood right to your front door. We deliver firewood to Minneapolis, Saint Paul, Rochester and the nearby region.
Please call 507-280-7780 or fill out the form below to place your order.
Contact Us Today To Place Your Firewood Or Mulch Order!